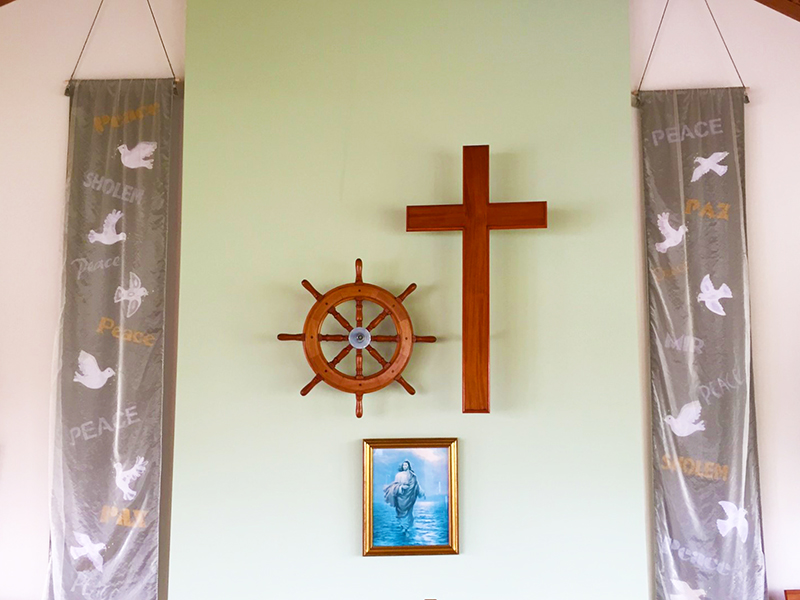 Faith and Beliefs
Statement of Faith
This congregation is a loving faith community which strives to demonstrate its faith values by deeds more than words. As God is all-embracing, we value all worshippers in the hope that each person's spiritual journey can flourish from individual faith into communal compassion and action.
Beliefs
The Christian Church (Disciples of Christ) has no creed but Christ and no doctrines except those found in the Holy Bible. Members are joined together in service and fellowship by the belief that Jesus Christ is the Son of the Living God and the acceptance of Him as the Savior of the World. We believe we are not the only Christians, but prefer to be known as Christians only, which is why we emphasize the name "Christian."
Membership is offered via one of two methods: a public confession in the belief in Christ as his or her personal Savior and baptism by immersion, or by the transfer of membership by letter of intent from another congregation. This church believes in nothing less than Jesus Christ and His Righteousness. We believe that serving God is not about do's and don'ts, but rather growing spiritually mature. We believe an intimate relationship to God comes from freedom, not bondage.
As Disciples of Christ, we believe in God and accept Jesus as our Savior through our Confession that He is the Christ, the Son of the Living God.
We believe in Baptism and practice it by immersion, while recognizing the validity of other forms.
We hold Communion to be central in our worship experience and invite all Christians to participate in the weekly celebration of the Lord's Supper.
We believe in the Integrity of each individual before God and allow for diversity of conviction and opinion.
Finally, we believe in the Unity of all Christians, and seek to foster their greater understanding and cooperation.
We believe in "The Great Confession". When Jesus asked his Disciples "Who do you say that I am?", Peter responded, "You are the Christ, the Son of the Living God." Christians refer to these words as "The Great Confession." As Disciples of Christ, we conclude that if Jesus was satisfied with Peter's confession, so should we be also. So when one wishes to join a Disciples church, he or she is asked but one question: "Do you believe that Jesus is the Christ, the Son of the Living God, and do you accept Him as your personal Savior and Lord?" It is this confession of faith that encompasses our foremost belief.
We accept Jesus' gift of baptism. Some churches believe that one must be baptized by immersion to be sure of your salvation. Others believe that one is saved by faith and that baptism is only the first act of obedience after being saved. Disciples of Christ regard baptism as an important command of Christ. He told his disciples, "Go make disciples of all nations, baptizing them in the name of the Father, the Son, and the Holy Spirit." Therefore, in an effort to be faithful to Christ, we practice baptism. We see full immersion as the most symbolic and appropriate manner of obedience. However, we accept members into our congregation who have been baptized by other means: infant baptism and confirmation, or adult baptism by sprinkling. We do not question the validity of other forms of baptism or require immersion for membership. Disciples of Christ take no official position on whether one must be baptized to be saved. We believe matters such as this are in God's hands alone. We encourage all members to prayerfully discern God's will for themselves.
We gratefully receive God's gift of communion. The Lord's Supper is the center of the church service every Sunday morning. It is not presented as an obligation, but as a spiritual opportunity. It is a matter of personal conscience and decision whether an individual chooses to partake of it or not. Looking at our sanctuary, you will note that the communion table takes the central position. That is appropriate, because in the Disciples church, we share in communion every Sunday and hold it central to our worship experience. Regarding the table as Christ's, and not our own, we close it to no one. Communion in our Church is open to anyone of any denomination who believes in Christ as his or her personal Savior and endeavors to follow His Way. We set the table, as He charged, offer the invitation, and serve the bread and the cup. We believe in the power of this simple meal and share in it every Sunday. We share communion each Sunday for two reasons: first, we read in the New Testament that the early church gathered on the first day of the week to break bread (Acts 20:7). Second, we find that the celebration of weekly communion draws us close together. Here at the communion table, week after week, we are formed into a community. Looking into the past, we remember the death and resurrection of Christ. Confronting the present, we experience His forgiving and loving presence in our lives. Facing the future in hope, we see around the table the whole family of God, gathered home.
We believe in the integrity of individuals and in matters of theology allow for diversity of opinion. It is our belief that every individual has a responsibility and right to interpret the meaning of the Scripture in a way that best serves to guide his or her spiritual walk. Interpretation is based upon Scriptural study, prayer, and conversation with other believers, under the guidance of the Holy Spirit. We believe all persons have a right and responsibility to read and interpret the Bible for themselves. We recognize that, because of background and experience, not all people will see things exactly alike. We do not regard this variety as negative, but see our diversity as a plus. In a Disciples of Christ church, one can freely ask questions and express opinions. The luxury of such freedom means that you will hear a variety of convictions and opinions, and that you may express ideas of your own. As we see it, we are ultimately responsible only to God for our opinions and actions. Therefore, we do not see it as our place to judge the opinions of others. For us, church is not the dictator of faith, but a place for its expression and nurturing.
We believe in Christian unity. Our church was born of a dream to unite Christ's church - to break down the walls that separate Christians into differing denominations and work toward the common goal of spreading Christianity together. Consequently, we eagerly cooperate with other churches whenever possible. From participating in the local Ministerial Alliance, to membership in the National and World Council of Churches, we affirm our unity in Christ and work cooperatively toward our common concerns.
Chalice

The symbol of our church is a red chalice (or communion cup) in which an X-shaped cross is embedded. The cup, which symbolizes the central place communion holds in our worship service, was adopted as the symbol of the Christian Church (Disciples of Christ) by the denomination's General Assembly in 1971. The color red was chosen because it represents vitality, spirit, and sacrifice. The X-shaped cross, known as the St. Andrew's Cross, reflects the Scottish Presbyterian roots of the church. It symbolizes the Cross as being the heart of our faith and points back to our church's historical beginnings. The national church of Scotland was Presbyterian, and the St. Andrews Cross was Scotland's national cross. St. Andrew is considered to have been the first evangelist by bringing his brother Simon Peter to follow Jesus. The cross also suggests the humility associated with the "Disciples" name. Andrew brought the Christian faith to Scotland and became its patron saint. Tradition has it that Andrew was crucified because of his ministry. When the terrible moment came, he declared himself unworthy of being crucified on a cross like his Lord's, and requested that he be nailed to an X-shaped cross instead. The X-shaped cross has ever after served to signify humility and sacrifice. Both Thomas and Alexander Campbell studied in Scotland, were of the Presbyterian faith, and later were instrumental in the founding of the Disciples of Christ.